Callaway XJ-2 6-Piece Junior Package Set
Regular

$449.99
Sale

$449.99

Regular

$449.99
Unit Price

per
Order now and get
2245

CLUBHOUSE Reward points

Earn points toward FREE gear with every purchase! Join now, it's free!
JUNIOR SETS
Features & Details
Callaway XJ Sets deliver the performance to fit your junior player, with industry-leading technologies to help them have fun and hit great shots.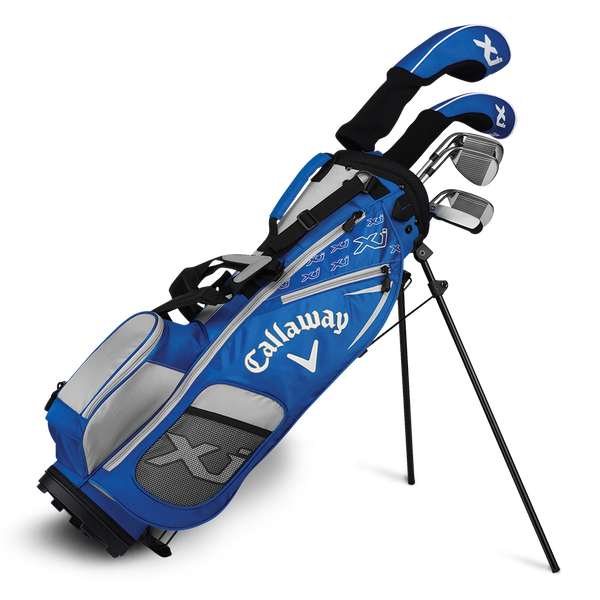 The Right Set For Each Junior Player

The XJ line is specifically designed to provide the best junior equipment for players from 42" in XJ1 to 57" in XJ3.

XJ1: 4-piece Set - Fairway Wood, 7-iron, Sand Wedge and Putter. Clubs that are easy to hit and get them into golf.
XJ2: 6-piece Set - Driver, Fairway Wood, 7-iron, 9-iron, Sand Wedge and Putter. Clubs to hit long, solid shots.
XJ3: 7-piece Set - Driver, Fairway Wood, Hybrid, 7-iron, 8-iron, Sand Wedge, Putter. for long shots, solid contact and great distance coverage.
Leading Performance Technologies

XJ Sets feature our industry-leading Callaway technologies that are designed for the distance to hit it long and the forgiveness to make clean contact and hit solid shots. This includes titanium drivers for long distance and proven graphite shafts.

Ultra-light Clubs

These ultra-light weight sets are engineered so that each club is easy to swing for the best performance.
SIZE CHART
What Set Is Right For Me?

HEIGHT RANGE
38-46
INCHES

HEIGHT RANGE
47-53
INCHES

HEIGHT RANGE
54-61
INCHES
Junior 2018 XJ Junior Sets Product Specs
| Set Level | Name | Loft | Standard Length | Lie | Head Weight |
| --- | --- | --- | --- | --- | --- |
| Level 1 | Fairway Wood | 23° | 29.00" | 57.00° | 200 |
| Level 1 | 7-iron | 36° | 27.00" | 60.00° | 235 |
| Level 1 | SW | 52° | 25.00" | 62.00° | 260 |
| Level 1 | Putter | 3° | 24.00" | 70.00° | 300 |
| Level 2 | Driver | 17° | 34.00" | 56.00° | 190 |
| Level 2 | Fairway Wood | 23° | 33.00" | 57.00° | 200 |
| Level 2 | 7-iron | 36° | 30.00" | 60.00° | 235 |
| Level 2 | 9-iron | 42° | 29.00" | 61.00° | 250 |
| Level 2 | SW | 52° | 28.00" | 62.00° | 265 |
| Level 2 | Putter | 3° | 27.00" | 70.00° | 300 |
| Level 3 | Driver | 17° | 39.00" | 56.00° | 190 |
| Level 3 | Fairway Wood | 23° | 37.00" | 57.00° | 200 |
| Level 3 | Hybrid | 27° | 35.00" | 58.00° | 205 |
| Level 3 | 7-iron | 36° | 33.00" | 60.00° | 235 |
| Level 3 | 9-iron | 42° | 32.00" | 61.00° | 250 |
| Level 3 | SW | 52° | 31.00" | 62.00° | 265 |
| Level 3 | Putter | 3° | 30.00" | 70.00° | 330 |